Wine Racks & Wine Cellars
The Wood Studio's expert design & construction of custom-built wine racks and wine cellars solves your wine storage and display needs. We consult, design, and install to meet any and all of your requirements.
Custom Wine Racks
Below you will find some of The Wood Studio's custom-designed home wine cellars and racks. No matter what kind of a wine buyer you are The Wood Studio can custom-design a wine cabinet to suit you and your wine buying profile. A mix of solid timbers and veneers in a variety of finishes are used for the wine racks.
Whether you buy by the case, in single bottles or a combination of those two, we can design a wine rack to best suit your needs. Floating shelves, open cradles or diamond bins may be employed, depending on the rest of the decor.
From a rack holding a handful, to a hardwood cellar or dining room holding thousands of bottles – contact the Wood Studio and make your dream a luxurious reality today!
This custom designed Dining Room Wine rack and Sideboard was made from solid Saligna.
The displays for the Wine Cradles had a fluted architrave surround to match the fluted rails at the ends of the lower cupboards.
The centre display area had a bronze mirror backing with doors over with glass inlays.
The wine racks and centre displays were back lit.
____________________________________
This Wine Rack was custom made to fit into an alcove.
The Rack was made from Mahogany with Diamond Bins to each side with a central section with cradles.
The Diamond Bins are designed to house case loads of Wine and the cradles are designed for individual bottles.
____________________________________
This Display unit was designed as a free standing Wine Rack with display sections in the centre.
It was made from solid Colonial Mahogany with a "Raised and Fielded" panel finish to the lower doors and upper bulkhead panels.
The centre display squares were custom Duco painted to colours chosen to complement the display pieces.
Speakers were installed to each side of the Bulkhead.
____________________________________
This Mahogany Wine rack was custom designed to fit into an Alcove next to the Bar we created.
The Diamond bins at the base were designed to accommodate case loads of Wine with the cradles above taking individual bottles.
The centre display area was designed to show special bottles of Port and, of course, some cigars.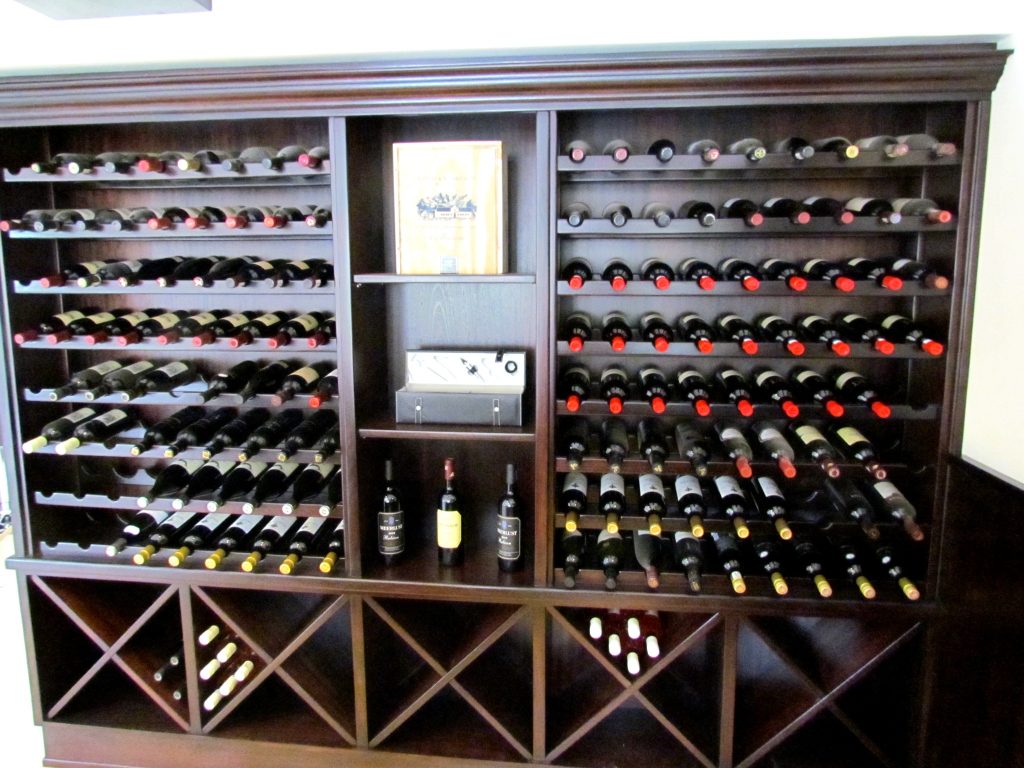 ____________________________________