The Bookcase was made from solid Okoume and Anigre veneers. The Bookcase measured 3,800mm wide with the two outside bookcases measuring 1,400mm wide and the centre bookcase measuring 1,000mm wide.  The depth of the shelving was 220mm. The spacing of the shelving was 260mm apart with the 5th shelf being 330mm apart.
Solid timber was used for the top of the cupboards, fluted columns, edging, base and capping. Double veneer boards were used to create 120mm fluted divisions and the external structure of the cabinetry.
Fluted columns and a decorative capping were featured in the design of the Bookcase.
The decorative capping followed the lines of the three bookcases and was squared at each end of the Bookcase. The fascia was mounted with the corbels and appliqués which were stained and sealed to match the cabinetry.
The Corbels and Appliques were hand carved by www.signcarver.co.za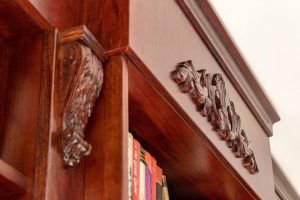 Please share if you like this 🙂