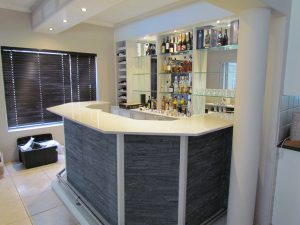 The Bar top and front serving shelves were made from Technistone 20mm Classic Ice. The frontage of the bar was tiled with Grey Quartzite riven stone. The internal face of the bar frontage was made from a printed Melamine. The width of the top was 450mm.
The total bar run was 4,100mm. The Cupboards at the rear of the Bar also had a Technistone 20mm Classic Ice top. The Cupboard Doors had a "Shaker style" frame with an inlaid panel. These frames were Duco finished in Dulux Grey Steel and the inlay panel was Duco finished in Plascon Evasive White.
A space was created under the front serving shelf for refrigeration. Dulux Grey steel Duco finish was used for the divisions of the displays.  Two Cradle wine racks were created at each end of the back wall. The displays had Silver mirrors and 10mm glass shelves were installed. A boxed foot rest with steel tubing was installed along the front of the bar. LED down lighters (steel finish) were supplied and installed in the display units.